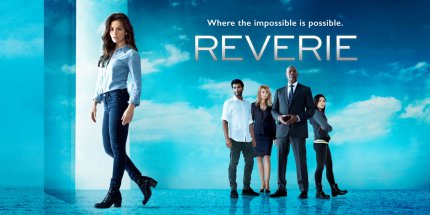 Looks like we're only going to be seeing Kathryn in six of the 10 episodes in Reverie's first season.  No news yet on whether there will be a second.

Kathryn did not feature in this week's episode, number 9 called 'The Key'.  However, the post-show preview for the season finale gave us a glimmer of hope for the next.  And I do mean a glimmer.  It is a blink and you'll miss it moment about 10 seconds into the half-minute long clip.  The video is now in the Gallery.  Any promotional photos will be added if/when they are released.
The press release for the upcoming episode mentions one of the team being kidnapped.  You can work out which person it is from the clip without too much difficulty.  Looks like Kathryn's Monica Shaw is roped in to help out.
See the last episode next week.
Update:  Five, yes 5!, promo photos from Point Of Origin that include Kathryn have been released.  That does suggest she will be in the episode a reasonable amount. See all five, count 'em, in the Gallery now. Expect bigger and better versions soon.
Update (3 August):  As promised the promo photos have all been upgraded to versions that are significantly bigger.  Enjoy.