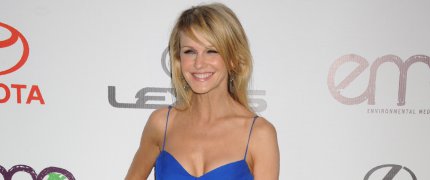 I could have sworn I'd posted an update on this event relatively recently.  Turns out it was back in October 2011.
Looking back at that post I was tempted just to copy it in its entirety, tweak the dates a little, and pass it off as new.  The content is still applicable today: we still miss Kathryn, the Environment Media Association Awards happened again in mid-October, and Kathryn did not attend to our knowledge.
As the weather continues its plunge towards winter I thought it was a good time to bring a little heat to KM UK.  Few things embody heat that Kathryn at the EMAs in 2010.  Phew! Wot a scorcher!
KM UK's Gallery already has very comprehensive coverage of Kathryn's arrival, on stage presenting, and backstage posing at the event.  Videos included.  Today we make it even more comprehensive-er by adding 15 more arrival photos and two more videos!
The first video is another red carpet interview (our 4th) in which Kathryn espouses the virtues of more efficient home appliances and using solar power generators at work.  Of course in the winter she could just raise the temperature of a room by walking in to it 😛  If it is too hot for you, crank up the AC or open a window.
A more general series of shots presented by Toyota (you can just about make out their sponsorship logos in the photos if you can see past the beauty) of the event make up the second video.  Kathryn appears briefly.
So, that's 15 more photos, 2 videos and HD (720p) screencaps from the first first now in the Gallery.  Enjoy.