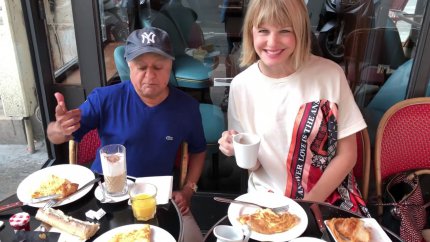 What is going on?!?!
Basically nothing for months and then the past week happened!
Quite often on YouTube I find videos that mention Kathryn.  Either it is a different K. Morris or some automated news item/collection of pictures put together to make a video.  Not what we're after here.
This morning, this appears.  The YouTube account is brand new, just a few days old with only a handful of videos added so far.  KM UK was the first to view them.  Apart from the name 'deep into food show' I have no information about who this man is.  Any suggestions are welcome.  We don't know when the video was shot either.
So, Kathryn us sharing some food at a street-side café in Paris and someone is filming it.  Not sure what else I can add to that.
Plus, Kathryn, if you are going to visit this side of 'the pond' at least pop over to England and say hi.  Next time, right?  Right…?
A small copy of the entire video is in the Gallery and some screencaps have been included to.  You can watch it on YouTube HERE.
What is going to happen tomorrow?