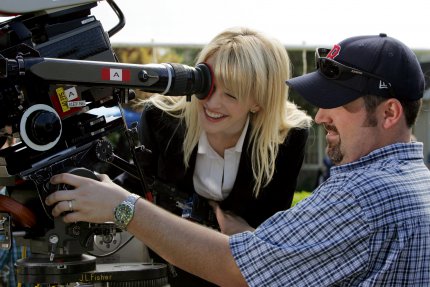 Didn't manage to furnish you with any updates last week but we are going to more than make up for it looking at 'Baby Blues'.
This episode of Cold Case (number 4 of season 4) first the light of day on the 15 of October 2006, an always surprising 15 years ago today.
You won't be at all shocked to guess that the image above is not a scene from the show.  It is an on set photo of Kathryn having a bit of fun with the crew.  The other 7 pictures are promo photos/stills.  Kat Miller (Tracie Thoms) features in most of them as she joined Lilly in a suspect interview.  All are large sized and high quality.
The 8 new photos from 'Baby Blues' are now in the KM UK Gallery.