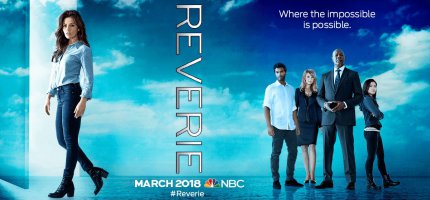 Despite the announcements there is always that doubt that maybe Kathryn won't be in the TV series Reverie.  For what ever reason these things can change.  Assuming Kathryn will star we can't yet be sure the extent of her role within the show.
Ahead of the pilot screening this weekend some of those fears have been allayed by the release of a couple of posters.  As you can see above, Kathryn is right there on the promotional material confirming a March 2018 première.  In this composite image she's been placed between Sendhil Ramamurthy and Dennis Haysbert.  Sarah Shahi's pose shows what the previously released, rather awkward looking artwork was based on.
To the right is a clipped section from one of the poster versions showing Kathryn in much greater detail.  Lovely.
Both versions are now in the KM UK Gallery, along with a couple of obscure on set images I added yesterday.
It is good to see the publicity for Reverie is stepping up.