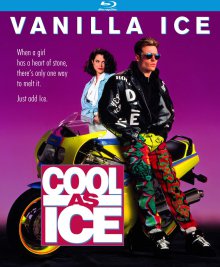 From what I can gather, this movie is about a man called Ray who is so blue with cold that he's turned into ice.  Or something like that.  The reality is not much less preposterous frankly.
Back the early 1990s, rapper Vanilla Ice (a ridiculously weak pseudonym for someone trying to project toughness) became a major celebrity.  It was a simpler time.  His hit song 'Ice Ice Baby', continues to haunt the airwaves to this day.  As is the way for the entertainment industry, it couldn't let a potential cash-cow like this go un-milked so it made a movie especially for it.  Fortunately, such aberrations seem to be rarer these days.  They just get reality TV series on obscure channels instead.
For those unaware of this little slice of Kathryn's early career, Cool As Ice was her second credited role.  She's only in a couple of brief scenes as a friend of the female lead (Kristin Minter, ER).  It's hardly Kathryn's big break, a couple of blink-and-you'll-almost-miss-her moments, but every actor has to start somewhere.
The plot is standard boy-meets-girl type stuff.  She's the good girl.  He's the bad boy who rolls into town.  Swoon.
Last week a new Blu-ray version of Cool As Ice was released in the US by publisher Kino Lorber.  I believe that is a new 1080p (full HD) transfer so should be better than any previous version.  The disc also includes an audio commentary by two film experts and some trailers.  There doesn't appear to be any versions of the disc for other parts of the world, so be aware if you were to import it to your part of the globe it may not play on your equipment.  I don't have details of the region coding.
Cool As Ice on Blu-ray and other formats can be found on the US Amazon site HERE.
Amazingly, this film has gone largely unmentioned here on KM UK, though there have been some decent sized screencaps in the Gallery since this site's inception.