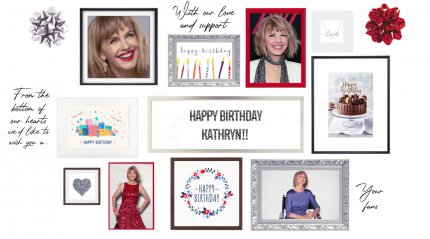 Here at KM UK we very much echo the sentiment the message found in the image above:
From the bottom of our hearts we'd like to to wish you a Happy Birthday Kathryn
Your fans.
The site's front page currently includes a lot of happy.  We have the Happy New Year, Happy Xmas, and the lovely images of Kathryn at the Ante Up For Autism 2019 event.  With this post we are adding a big Happy Birthday for our favourite lady.
Thanks again goes to super-fan Diane for the image above.  She has incorporated a lot of new images and nice thoughts.  As I am sure you would agree, we could all do with more of their like in our lives on a daily basis.
The wallpaper above can be found KM UK fan art gallery which has well over 700 works of art provided you the fans. There are banners, avatars, drawings, wallpaper and a video. If you would like to add this archive please contact me.