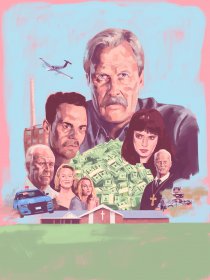 New news!  Actual new news!
It has been reported by the website Deadline that Kathryn has joined the cast of a indie movie called Hayseed.
Kathryn's appearance on the IMDb page for the project confirms this.
The film is described thus:
"A retired police officer-turned-private investigator is tasked with discovering the truth behind the beloved reverend is found death that was quickly ruled an accident by local authorities."
Kathryn is listed as playing Joyce Metts, who according to Justin Kroll's report is the mother of a daughter about to leave for college.  She is a waitress and former beauty queen.
I know that many actors work as restaurant wait staff between jobs and we've seen Kathryn play a waitress in Murder She Wrote.  I'd take exception with 'former'.  How dare they!

Hayseed is listed as being in pre-production, but I understand that production is due to start this month, having previously been set for Spring 2021, and may have already begun.  We know that Hollywood is a strange beast when it comes to timings and the current world-wide situation can't have helped.
The film is the work of writer/director Travis Burgess.  This will be Travis' first feature, having mostly done short films previously.  The script has already won accolades at various film festivals over the past couple of years.  The film's very modest budget was raised via crowd funding and investors.
Bill Sage (Orange Is The New Black) stars as the police officer/PI.  Amy Hargreaves (Homeland) and Caitlin Carver (Dear White People) are amongst the cast. The daughter is played by Marta Piekarz.
As I hope you would expect of KM UK, we will be paying very close attention to Hayseed and bringing you as much information about it as possible.