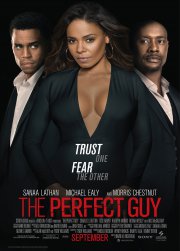 Here at last.
It finally made it.
The new thriller movie The Perfect Guy is going on general release in the United States Of America and Canada today (11th Sept).
Other territories will see the film over the coming months.  Here in the UK we have to wait until November 20th (contrary to the date shown currently on IMDb).
The Perfect Guy stars Sanaa Lathan (The Cleveland Show), Michael Ealy (Almost Human), Morris Chestnut (V), Charles S Dutton (Longmire), and Rutina Wesley (Arrow), amongst others.
Sanaa is Leah.  She's ends a relationship with Morris's Dave and starts a new one with Michael's Carter.  Carter is perfect, until he stops being so.  Then Dave is back on the scene.  Can Leah trust either of them?  Apparently there's a twist.
Kathryn has a small role in the movie as one of a group of Leah's friends.
If you get a chance to see the film please come back and let us know what you thought of it, especially about Kathryn and her work in it.