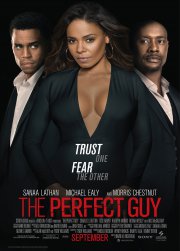 The new thriller movie The Perfect Guy is less than a month away now.
US cinema goers can see it from the 11th of September general release date.
However, the official film première is due to take place a few days before that on the 8th of the month.  It will, not surprisingly, be happening in L.A. but at the time of writing the exact location has not been published.
I'm sure that members of the public will be able to catch a glimpse of the movie's stars on the red carpet but, if you want to be a bit more certain there is something you can do about it.  And be charitable at the same time.
The film's promoters are taking the opportunity to raise money for three different charities.  In return for their generosity donors can get special gifts.  The Omaze website is hosting the sale of the rewards.  They range from $10 donation to the charities, $100 for a t-shirt, all the way to $5000 for a Skype chat with one of the them.  Only the three main stars (Sanaa Lathan, Michael Ealy and Morris Chestnut) are mentioned.
Each entry is added to a prize draw.  The winner of that will get the VIP treatment including a flight to L.A. and a 4-star hotel stay.  There are no specific details but I'm assuming that will only be available to US residents.
The three charities are the The Lustgarten Foundation (funds research into pancreatic cancer), HerShe USA (supports girls in foster care as they become adults) and the Children's Miracle Network Hospitals (supports children's hospitals across north America).
You can read all the details and make pledges at the Omaze website HERE.
We don't know if Kathryn will be present at the event.  Fingers crossed for an appearance.