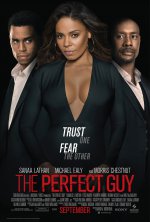 As of yesterday (22nd November) The Perfect Guy had racked up just a whisker short of $57m in total takings world wide.  Only about 4% of that was from non-US countries.
The thriller film was number one in its opening weekend, which started on Friday the 11th of September.
Last Friday (20th November) The Perfect Guy opened in the UK.  Unlike the first weekend in US it was up against some very strong competition.  The latest James Bond movie, Spectre, is still going strong after four weeks and the final instalment in The Hunger Games quadrilogy, Mockingjay Part 2, premièred.  That's some tough competition.
Couple that with a no doubt different demographic, less publicity, and stars not so recognisable to a UK audience and it is understandable why The Perfect Guy took around £100,000 (approx $150,000).  Perhaps it'll be a slow burn.