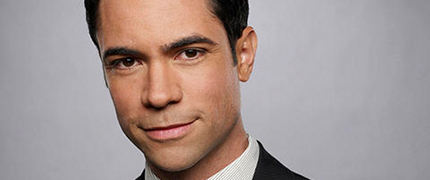 Happy (is that right?) Halloween everyone.
It's the end of the month so it is time to update ourselves on the on-going careers of the rest of the Cold Case cast.
I say on-going careers but we'll start with a brief pause in one.  As suspected in the previous update it was announced that the TV comedy drama series BrainDead, which starred Danny Pino (Scotty Valens in CC) as a senator, will not be on the receiving end of a season two order.  That's a shame because it was a very good show made even better by the fun and inventive 'previously on…' songs at the beginning of each episode.  As things stand there is no news on Danny's next project, though based on history something will be announced within hours of this post being published.  Look for CCCC-up November 2016 for that news

Last month I covered Tracie Thoms (Kat Miller on CC) treading the boards again in a revival of the musical Falsettos.  The Broadway show had its public opening last Thursday (27th Oct) night at the Walter Kerr Theatre.  Tracie plays Dr Charlotte and stars alongside Stephanie J. Block, Christian Borle, Andrew Rannells, Anthony Rosenthal, Brandon Uranowitz, and Betsy Wolfe.  Good news for those that would like to experience the show but can't make it to New York: the day before the première it was announced that a double-CD recorded by the cast will be released.
Before raising the rafters Tracie must have filmed a role in new movie The Basement, a horror/thriller starring Mischa Barton (The O.C.), Cayleb Long (Ascent To Hell), and Jackson Davis (Lonelygirl15).  It involves the kidnapping of a rock star by a serial killer.  Tracie is 'Lauren'.  No release date beyond '2017' has been issued.
Back in August I reported that the film The Watcher would be broadcast by the Lifetime network in October.  It was.  Next month it is due to be available on Netflix.  In the film Erin Cahill (Jen the Pink Power Ranger) and Edi Gathegi (The Blacklist) have bought their dream home together.  Turns out to be more of a nightmare.  Tracie is 'Amanda'.
In mid-November Tracie must be getting a day off from her work in Falsettos.  Where as most of us would take the opportunity to spend the whole day sleeping, that's not Tracie's way.  She's going to spend the 24 hours making another play, from scratch.  Its another in the '24 Hour Plays' series which happen in various parts of the country during the year.  This is Broadway's annual version.  A whole load of actors with a bunch of writers and  directors will put on 6 short plays.  It is all in aid of raising money to help aspiring young actors, writers, producers, and directors learn their craft.
Occasionally we veer off the Cold Case cast theme a little to encompass some other significant people involved in the show.  One of those is Veena Sud who was a writer and producer on many episodes.  Veena went on to have much success in those same roles with the America version of The Killing.  Now she has a new drama in the works for Netflix.  It is called Seven Seconds and is based on a Russian movie called The Major.  A senior member of the police service accidentally kills a boy whilst driving his car.  Abusing his position he covers the crime up to save himself.  The 10 part drama series transplants the story to Jersey City and includes the all too familiar element of tension between a predominantly white police force and the black populus.  David Lyons (Game Of Silence) and Beau Knapp (The Nice Guys) are set to star.