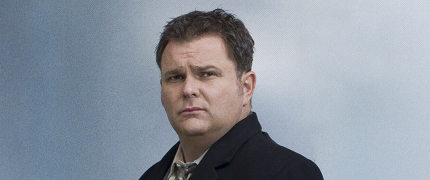 The Standard being The St. Catharines Standard newspaper from the area of Ontario, Canada, that Jeremy Ratchford (Nick Vera in CC) hails from.  Jeremy is from Kitchener, which is around 60 miles from St. Catharines, which is just a long stone's throw away from the famous Niagara Falls.
Normally I wouldn't reference a newspaper interview like this but The Standard has published Joel Rubinoff's interview with Jeremy, which is part of a series of interviews with significant locals involved in the arts and entertainments sector, in which he mentions Kathryn several times.
From the transcript Joel and Jeremy had an interesting and entertaining chat a little outside the normal brief career summary, refer to thing they are known for, tell us about your latest project, celebrity interview.  I'll leave you to read the whole thing HERE on The Standard's website.
On KM UK we'll focus on the Kathryn references.  First up Joel asks about Jeremy bringing up 3 boys.
Joel: Kathryn Morris, your "Cold Case" co-star, has four-year-old twins. Do you confer with her about child-rearing?

Jeremy:  She and I talk all the time about what's best for the lads. Five boys between us. She hooked us up with a summer camp last year. My eldest did community service to apply to his high school credits and my little men did 'vaulting' on horses.

Joel:  Series pitch: Jeremy Ratchford and Kathryn Morris play former cop show co-stars who live near each other and discuss parenting issues.

Jeremy:  Might work as a podcast?
I know we'd all listen to that!  It is nice to learn that the ex-workmates are in regular contact still.
Next up are some less than predictable ideas from Jeremy in answer to one of the few more predictable questions:
Joel:  If "Cold Case" came back today, how would it be different?

Jeremy:  Kathryn would be the head of the FBI. Thom and I would have a P.I. business called "Private Eyes Are Watching You," with our jingle provided by Hall & Oates. Danny would have given up his cop life to follow his dream of organic magic. Tracy becomes the first female police chief of Philly. John — after an undercover operation — grows his hair out and plays bongos in a touring Grateful Dead cover band. Somehow we all reunite to discover if Elvis is still alive.
Head of the FBI is not currently the sort-after job it was back in 2010.  Did we ever see Scotty (Danny Pino) show an interest in magic.  And what's organic magic?  Making free-range carrots disappear?  We definitely want to see John (John Finn) as a serious 'Deadhead' and the team reunite to find Big Foot

Thanks to Joel and Jeremy.
Yes, I've noticed the Catharines/Kathryn thing