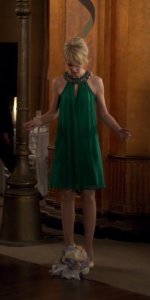 An original element of Cold Case's USP was that Lilly Rush (Kathryn, obviously) was always dressed quite simply and her hair style was very matter-of-fact.  Unlike in many similar shows Lilly was a cop first and foremost and not a catwalk model with a completely different outfit in every scene.  She didn't want to spend hours in front of a mirror every day only to be stuck in the interrogation room (which ironically had a massive two-way mirror in it) or chasing down suspects all over Philly.  However, the hairdo became the focus of much discussion despite being designed not to be.
This trait of Lilly's was carried over into her personal life as we saw in the episode Revolution (S02E14) when the two Rush sisters met for dinner and Lilly was wearing what could well have been her prom dress.  It was not a good look: a red thing with boxy shoulders.  We were left to imagine Lilly getting ready for that meal and realising that she had nothing to wear other than her regular work suits.
But, much like many a possible on-going story line this thread was dropped when it came to the Two Weddings (S07E15) episode of the show.  It opened with the shot of a stocking, high-heel-wearing pair of legs stepping across a threshold.  Two everyone's surprise, as the camera panned up we saw it was the dressed-to-the-nines, looking like a million dollars Lilly!  Yowza!  (Eyes out on stalks emoji!)
Lilly and co. were attending the wedding of their colleague Louie and our leading lady had clearly spent her years of unused wardrobe budget in one hit on the shoes, dress and coat.

Why I am telling you all this?  Well, because visitor to this site Susana recently asked about the dress.  The question reminded me that despite much discussion at the time we never found out if it could be attributed to a particular designer or brand.  Plus, it was nice to revisit this episode again.

A few months after Two Weddings aired in the US Kathryn attended a charity event in which she modelled a 'Tresor de Vintage' dress which had some similarities.  It was green and knee length.  That's always had me wondering if the Two Weddings dress was from the same stable.  As an aside Kathryn's Colony co-star Sarah Wayne Callies was also there that day.
So, my question is can you put a name to the dress?
As a sweetener I've added a couple more stills from the episode to The Gallery.