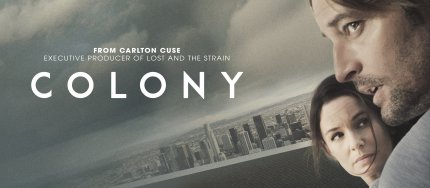 A couple of weeks ago the news broke that Colony would be coming to UK television screens on Sky 1 in early April.
That time has arrived and Colony is now on the schedules.
The series will be shown on the satellite channel from Thursday (7th of April) at 9pm, in between DC's Legends Of Tomorrow and the beginning of the new season of the comedy panel show Duck Quacks Don't Echo.  That's a prime time slot on a major channel.
Josh Holloway (Lost) and Sarah Wayne Callies (The Walking Dead) lead the sci-fi drama series about a set in current day earth that has been invaded by aliens.  They have taken control and split the remaining human population into walled in 'blocks'.  Colony follows the lives of the Bowman family (Josh and Sarah as parents to three children) and others in a section of Los Angeles.  Kathryn stars in three episodes as someone allowed to live in a more privileged area in return for collaborating with the 'hosts', in her case she is collecting works of art for them.