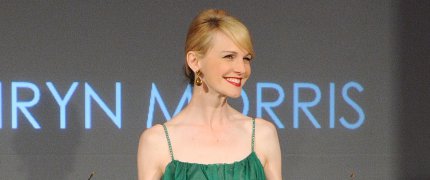 Kathryn attended, and starred in the The Buzz Girls Timeless Style Fashion Show Benefit yesterday (6 April 2010).  And here's the wonderful, wonderful proof.
I've no idea what it was all about but I'm sure it had a buzz about it, some girls, a timeless look, style, fashion, a show, and I can definitely feel the benefit 😉
OK, we've been told what it was about.  The event was a benefit for The Joyful Heart Foundation, an organisation founded by actress Mariska Hargitay.  Kathryn's dress is from Tresor de Vintage.  Thanks to TBG (see comments) for the details.
Big thanks to Ludo for the help.
Update: 3 more photos added. Thanks to Steve.
Update 2: 5 more photos added.  3 are from PhotoBoothless.com (on Facebook).  Thanks to Carrie for the heads-up.