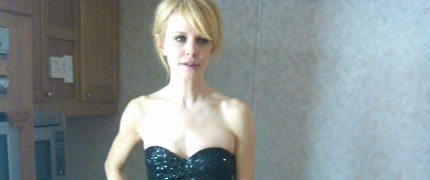 The most recent Twitter message from Mother's Little Helpers writer/director Asher Levin gives us little hope for much more Kathryn related stuff until nearer the film's release.  More's the pity.
asherlevin: Homestretch with the youngstaz today. Vlogs will start again when we get into post. Thanks for following all. Viral invasion begins soon. – Link
If that's the case then we'd better make the most of the latest costume test image that's surfaced.  And there's a lot to make of it that's for sure  😉
It looks like they've taken the best bits (the sparkly dress they liked and the legs) from all the previous outfits and combined them into one.  Plus, they've thrown in some bare shoulders and cleavage for (very) good measure  😉
1 new image added to the Gallery.
It's going to be a long Spring, Summer and Autumn…