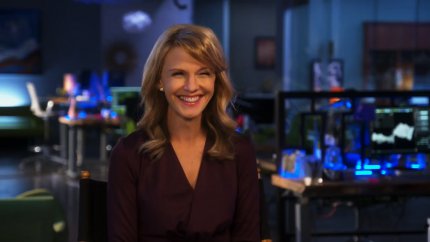 Suddenly the word 'reverie' is all to apt.  We should all bask in the wonderfulness that is Kathryn smiling on camera.
Ladies and Gentlemen Kathryn is back.  Another set of Reverie-related videos have been released.  This time they are a key part of the Electronic Press Kit (EPK): the cast interviews.

The TV networks put together videos made up of cast members answering various questions about the show, their character, and that character's role in the show.  When you watch the video you'll see it is quite crudely edited, with the sound dropping out on occasions.  Normally you'd just see one or two segments extracted from the cast interviews and broadcast as part of a promotional piece, and not the whole 4 minutes like this.
But watch it you must.  Kathryn talks about what drew her to the show and her Monica Shaw character, and the wider relevance of the show.  She also gives a few hints as to Monica's motives for getting involved.
You just know that I've made some great screencaps of the video, and you won't be disappointed.  The image above is particularly fine example.  Seem the all in their HD (720p) glory in the KM UK Gallery along with the video.