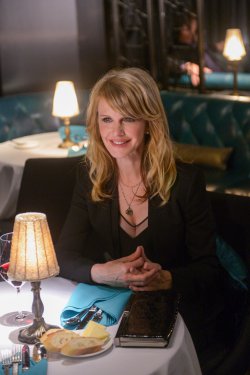 Kathryn!
Yes!  Now I'm in a reverie 😉
NBC have released a set of promotional photographs from the first episode of the sci-fi-ish drama Reverie.
Most of them understandably are focusing on the lead actress Sarah Shahi (Person Of Interest) as Mara Kint, a hostage negotiator brought in to a hi-tech VR company to help rescue users.  However, three of them the images give us our first proper glimpse of our Kathryn in her role as Monica Shaw of the Department Of Defence.  And that's what we'll focus on here on KM UK.
All three images show Kathryn sat at a restaurant table with Dennis Haysbert's Charlie Ventana.  Charlie is working for the Reverie tech company.  It is he who contacted Mara for help.  It seems that Charlie is also involved in dealing with the DoD's interest in the technology.
May 30th seems so far away now!
The three new photos are now in the KM UK Gallery.