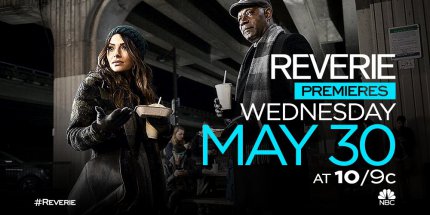 As the lead of the show, and a significant reason for the show being broadcast, Sarah Shahi is understandably shouldering much of the burden of promoting Reverie.
One of the many interviews Sarah's done in the past few weeks was with TVLine website's Matt Webb Mitovich.  This one is of note to us because further mention was made of Kathryn's role as Department Of Defence official Monica Shaw and the military's interest in the VR technology.
You can read the complete interview on the TVLine website HERE but is the relevant excerpt:
TVLine: Talk about the larger mythology that the show might explore regarding the tech, its uses and abuses, the recruitment of Mara….

Sarah: Absolutely, there are some conspiracies regarding the technology. The character that Kathryn Morris plays, she constantly straddles the line between using this technology for good and then abusing it for government purposes. We have an episode, actually, where the military gets involved. They are holding a kid hostage for information in the reverie, so I have to go in…. I mean, look, it's [produced by Steven Spielberg's] Amblin, right? Ready Player One made a big splash and similar to how that movie was just such a ride, that's exactly what this show is. It's a ride.
Just a few days to go now.