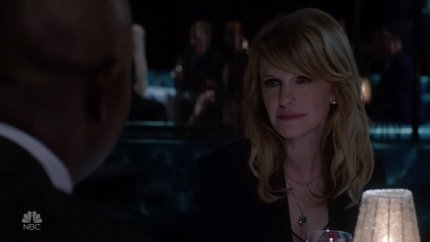 Based on the promo photos and videos released I was certainly under the impression that Kathryn would not feature much in this initial episode of Reverie.  And so it came to pass.
Other than briefly hearing her voice on the end of some phone calls with Charlie (Dennis Haysbert) we only got to see Monica Shaw in the restaurant scene near the end of the episode, as shown in the previously released promo photos.  We do know that Monica is not just from the Department Of Defence and seems to know a lot about Mara (Sarah Shahi).  No doubt this will become more apparent as the season progresses.
A small collection of HD (720p) screencaps are now in the KM UK the Gallery.
Let us know what you thought of Reverie in the comments below.