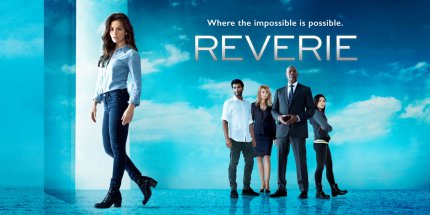 Not long left to go until Reverie premières on the American NBC network.
We have just enough time to squeeze in another snippet from an article about the show.
There have been many mentions of other TV shows and movies that have similar themes and ideas as Reverie in the numerous articles about the new drama series.  The films like Inception and The Lawnmower Man, the book Through The Looking-Glass, a mid-90s virtual reality-based TV show VR.5.  That kind of thing.
Another is the recent hit movie Ready Player One.  Other than sharing a production company, Steven Spielberg's Amblin Entertainment, virtual reality is the obvious point of comparison.  However, Brittany Rivera (great name) at the Fandom website has dug a little deeper into the two to compare the characters.
Brittany makes the point that the major roles in RPO are male and they have direct parallels in female form in Reverie.  What's more the leading ladies (Sarah Shahi, Jessica Lu, and Kathryn) are of greater ethnic diversity than the predominantly white men of RPO.
Here's how the Fandom article describes one of those women:
Monica Shaw (Kathryn Morris) is the wildcard of Reverie. She's a mysterious venture capitalist with an interest in Onira-Tech. So far, it seems she is the most like Sorrento, Ready Player One's bad guy. She's a businesswoman with her own agenda who cannot be trusted. Monica also has ties to the Department of Defense so her plans for Reverie are about how she can exploit the program for her own purposes.
Read Brittany Rivera's full piece on the Wikia Fandom site HERE.