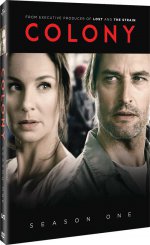 I was going to start this post by saying it could very well be my last post involving the sci-fi-ish drama series Colony.
Kathryn is not likely to be in the second series, which started in the US last week.  The season one DVD is out in America already and the show is available via streaming services.
That being said, the DVD release of the show in Great Britain marks the end of the saga for us on KM UK.
However… it is looking like the scheduling gods have other ideas.
Tomorrow, the 16th of January 2017, was due to see the UK season one DVD release.  The Amazon page for the product has changed to 'Currently unavailable', which initially I took as meaning out of stock due to too many pre-orders.  The release date is still shown as the 16th.  Some other sites have the date down as the 6th of February.  I've found one that has the discs down for release on both dates.  Go figure!
So… Colony will probably not be available to purchase on DVD from tomorrow.  Thanks for reading