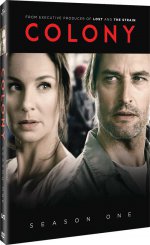 After the false start a couple of weeks ago it is looking at season one of the USA network sci-fi-ish drama series Colony might actually be hitting the shelves tomorrow (6th February 2017) here in the UK.
Any further delays and we may have to sending people to the factory.  No green-zone for them! 

The Amazon UK page for the disc is definitely showing the release date as tomorow and allowing pre-orders at time of writing.  Be quick and choose the fastest/most expensive shipping option and you could have on the day.
Season two of Colony has reached the fourth episode in America and, very much as predicted, there has been no mention of Kathryn's character Charlotte.  Press releases and promo images for upcoming episodes have given us no suggestion that that will change.  Charlotte's husband (Adrian Pasdar) is shacked up with the woman (the lead character's sister-in-law) she introduced him to in season one.  We have been getting more insight into the labour camps though.
It should be noted that in a flashback to the initial invasion, the construction of the wall around the Los Angeles 'block' the Bowman family (Josh Holloway, Sarah Wayne Callies plus kids) live in was shown.  It was a very quick process of dropping large pre-assembled segments into place.  I would imagine that the realities of sealing an even longer border with such an erection may be a little more difficult and time consuming.  But it is fiction after all.