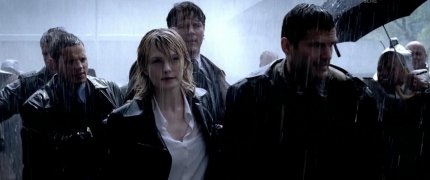 KM UK's Summer of HD 2012 gets off to a damp start.  Entirely appropriate for an English summer

Yes, for 2012 we are going back to the very beginning, back to Cold Case season 1.  Did you guess correctly?
In the very first episode, Look Again, after visiting a fresh crime scene Detective Lillian Rush gets involved in solving an old case from 1976, and she's not best pleased about it.
Looking again (see what I did there?) at this pilot episode you can see that the show did not quite have the structure we became so familiar with.  The flashbacks are very brief and it is wall-to-wall Lilly (a good thing

) with Kathryn in practically every scene.
Also, Danny Pino's makeup artist must have been different because he looks so different

  I joke of course.  Justin Chambers starred as Det. Chris Lassing in 3 of the first 4 episodes.  We don't get introduced to Scotty Valens until later in the season.
398 HD (720p) new Lilly screencaps and an updated promo image from Look Again can now be found in the Gallery.