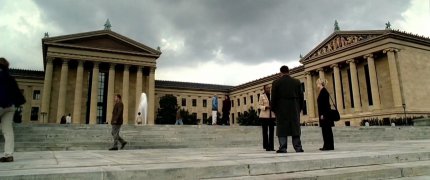 Our boy is back indeed.  If the 'boy' in question is an English autumn.  The British national holiday known as a 'Bank Holiday' is traditionally wet and this one is proving to be no exception.  Delayed by a week (it was v. hot last Monday) and increased to two days for the Queen's Diamond Jubilee could only make matters worse.  And it has.
KM UK's Summer of HD 2012 continues with Cold Case episode 3 of season 1: Our Boy Is Back.  It's an episode also known as Useless Cats, though quite what they were expected to do is not known.  Lilly and the squad face a race against time to catch a serial rapist who has returned after 5 years absent.  Tipping off the squad with a letter strikes me as a bad idea if you wish to get away with a crime.  Can they identify and stop him in time?
323 HD (720p) Lilly screencaps for the episode can now be found in the Gallery.