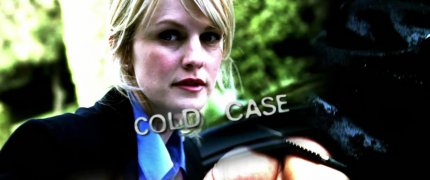 It might be difficult to believe but a whole decade has passed since Cold Case first hit the television screens of the United States Of America.
Sunday the 28th, September 2003 was the day when the world got to Look Again for the first time

  Did you watch Cold Case on that première day?  Did the format hook you straight away or were you just mesmerised by the leading lady?
According to the lists of traditional gifts of wedding anniversaries the 10th year is Tin (or Aluminium/Aluminum).  The modern US list is a little more materialistic with it hitting the valuable items much, much sooner!
Looking back through old TV news from early in 2003 it is interesting to see in a brief way the journey the show went on before going to air in the autumn of that year.
Initially the show was called Cold Cases (plural) and Justin Chambers was leading the way.  Shortly afterwards news of his female co-star broke.  You may have heard of her

  Next we get a possible name change to The Unsolved.  Perhaps the issue with the other show with Cold Case in the title was being dealt with at that time.  The Unsolved was thought to be up for a Friday night broadcast slot, Mel Winkler was the actor in the role of Will Jeffries, and Jeremy Ratchford's character was called Ronnie Vera.  By the 2003 Upfronts (the big press events in May) the name was back to the singular Cold Case and the time slot had shifted to Sunday nights at 8pm, both of which we became so familiar with.  The pilot must have been re-shot as the first episode with Thom Barry as Jeffries.  A month before the opening night Danny Pino was added to the cast for a later episode replacing Justin.
In the first week Cold Case had the largest audience for a CBS drama première in years.  It beat the new N.C.I.S. show by over 2.5 million viewers.  Where is that show now? 

  Within a couple of weeks Cold Case had an order for additional episodes and within a month had a full season order.
The 2003/2004 season saw a lot of big new shows it the air.  In addition to those already mentioned, in no particular order, there were shows like Karen Cisco (starring Carla Gugino, a short lived cop show based on the character played by Jennifer Lopez in Out Of Sight), Arrested Development (still going after a few bumps in the road), Nip/Tuck (long running drama about plastic surgeons in Miami), Tru Calling (post-Buffy Eliza Dushku drama), and teen soap opera One Tree Hill.