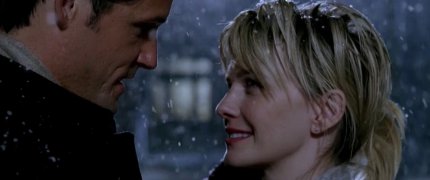 Hubris writers Kim Newton and Stacy Kravetz appear to have taken a leaf from Veena Sud's book on episode titles.
hu·bris [hyoo-bris, hoo-]

noun

excessive pride or self-confidence; arrogance.
College professor Roy Minard (Jeffrey Nordling, 24 and Body Of Proof) asks Rush to clear his name after being accused of murdering a student.  With that title, and applying the normal Cold Case "the most recognisable guest star probably did it" rule, who do we think is the mostly likely suspect?  Hubris indeed.
It makes for quite a twist on the normal storyline but it is rather overshadowed by the scene pictured above.  Rush's trashcan can-can (not a great description but I had to use the phrase

) is a joy to behold.
KM UK Summer of HD 2012 continues with Cold Case season 1, episode 11.
385 HD (720p) Lilly screencaps can now be found in the Gallery.