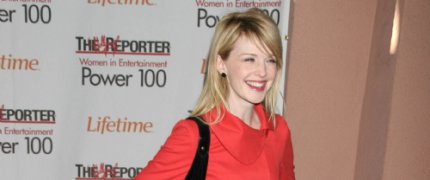 Or to give it its full title: "The Hollywood Reporter's 15th Annual Women in Entertainment Breakfast".  Now there's a mouthful 

I've been trying to keep some of these nostalgia trips roughly in line with the same date that they originally happened.  This post got pushed back more than week by other things so we missed, just.  Kathryn, and her red coat, had breakfast with the Power 100 on the 5th of December back in 2006.  The 2013 edition of this event happened just last week (11th Dec) so we were closer with that one and was attended by lovely ladies such as Angie Harmon (Rizzoli & Isles), Alyson Hannigan (How I Met Your Mother), Gillian Jacobs (Community) and Judy Greer (Arrested Development).  But not Kathryn.
No one knows what actually goes on at these meetings.  Or if they do, they're not telling us!  You don't think they actually… eat breakfast do you?!? 

The album in the Gallery has been updated with 5 more photos of Kathryn attending the do.