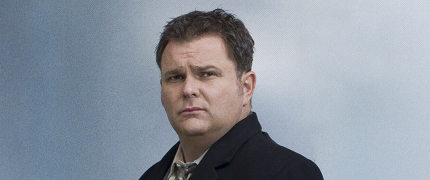 Nearly the end of the month so it's time to roll out another CCCC-up, KM UK's look at the on-going careers of the significant cast of Cold Case that aren't Kathryn.
Ha, ha.  Fooled you.  I've put a picture of Jeremy above but I'm going to start with Tracie Thoms (Kat Miller on CC)

  We'll come to Jeremy next.  A whole year ago, in the September 2014 CCCC-up, I mentioned that Tracie was involved in filming a webseries called Sidetracked.  The status of the project is still not clear all this time later but earlier this month Writer/director E.D. Brown released a set of promo videos.  There are four short clips, each covering a different episode in the series about the lives of various people whose lives haven't quite gone to plan.  Who can say theirs has?  Tracie stars in the video for episode two titled "We Live On Land".  You can watch it here on YouTube.  From there you easily find the others.  The series stars Adrienne Wilkinson (Xena: Warrior Princess), Ahmed Best (Jar Jar Binks in Star Wars: Episode I-III) and Wes Ramsey (CSI: Miami), and E.D. Brown herself, amongst others.  A more recent work is No Touching which sees Tracie re-teaming with her Raze co-star Zoë Bell.  It's a short story described as being about "a shady haunted house attraction where the performers are assaulting female patrons".  As Zoë stars with fellow stunt performer Heidi Moneymaker (Scarlett Johansson's stunt double in Avengers: Age Of Ultron), and her role in Raze, I think you can guess what's going to happen when these two ladies visit the spooky amusement.  Filming apparently started on the 20th.  Tracie posted on social media that she'd finished filming on the 21st.  Well, it is a short film.  How Tracie fits in is not clear.  She's presumably not one of the guys doing the groping.  More details on the project can be found on their Kickstarter page here.
Now on to Jeremy Ratchford (Nick Vera in CC).  Since Cold Case ended Jeremy has mainly been seen in guest starring roles in shows such as Hawaii Five-O, The Mentalist and Bones.  Three weeks ago he made appearance in the drama series Longmire.  It may be set in modern day Wyoming but Longmire, based on the novels of Craig Johnson, clearly has a sensibility harking back to the classic westerns.  Robert Taylor (Ballykissangel) stars as a sheriff still dealing with the loss of his wife.  Katee Sackhoff (Battlestar Galactica) is his deputy.  Together they keep the peace and solve crimes.  Jeremy guested in the second episode, "War Eagle", of the fourth season.  Originally the show was broadcast by the A&E network in the US but they dropped it after three years.  Netflix, as it does, picked it up and released all 10 episodes of the fourth run at once on September 10th.