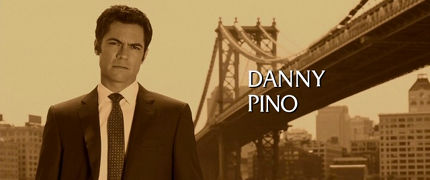 It's late in the month and the picture above is not of Kathryn so that can only mean one thing: it's the latest CCCC-up, where KM UK keeps track of the on-going careers of the other Cold Case cast members.
I don't follow Law & Order: SVU so I only happened to stumble on the big news about the show and Danny Pino (Scotty Valens on CC) the other day.  It was a bit of a shock to read.  Apparently Danny will not be returning to the show when the 17th season starts in the autumn.  He's done 4 years as Detective Nick Amaro, joining the long running drama in 2011, after Cold Case finished.  I get the impression Amaro was not written out in the finale, the decision was probably taken after filming was completed.  They will have to some how explain the character's absence in the early new episodes though.  It's still very early days but there is no sign of Danny taking on other projects yet.
Tracie Thoms (Kat Miller on CC) is, as always, racking up those star-miles with at least two new projects on the go.  Wet Hot American Summer: First Day Of Camp is a short comedy series for Netflix.  8 episodes is short by US sitcoms standards but it is more than many British shows have.  The cast is impressive in both width and depth.  Including a list of even half the ones you've definitely heard of could overwhelm this post.  How do Bradley Cooper, Kristen Wiig, Elizabeth Banks, Molly Shannon, Amy Poehler, Paul Rudd, Christopher Meloni, and David Hyde Pierce sound?  And there are soooo many more, and most of them seem to be in all the episodes too.  It's going to have to be a jam-packed 30 minutes.  But what's it about?  The title certainly makes it sound an American Pie-style comedy about the American institution that is the summer camp.  The addition of the colon punctuation and subtitle to the name also gives away that this is a sequel.  The original, with very much the same cast, was a film from 2001.  The film is due for release in late July.  The second string to Tracie's bow is a 2016 film called Border Crossing.  Josh Charles (The Goodwife and WHAS:FDOC I've just mentioned) and Julia Stiles (The Bourne Ultimatum).  It's about a psychologist who rescues a drowning man he knows from a past criminal case he worked on.  Tracie's role is not clear at this time.
There's no new news on new projects for John Finn (John Stillman on CC) but there is some almost-news for a recent project of his.  The TV series/film An Bronntanas; which saw John star as a police office investigating a case involving coast guards, drugs and dead body; received three film nominations in the recent Irish Film & Television Academy Awards.  If you don't want to know the results before the Irish TV broadcast of the event on Monday look away now.  It didn't win anything.