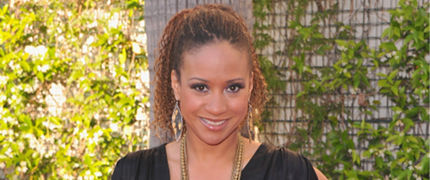 Every so often here on KM UK we like to report on what Kathryn's Cold Case co-stars are up to since the cop show ended.  Today it's time to give a little love to Tracie Thoms.
I'm a little late jumping on this particular… errrr… bandwagon

This year Tracie has been involved in web-based series called Bandwagon, starring Emma Caulfield (Buffy The Vampire Slayer) and Yvette Nicole Brown (Community).  It's a comedy mockumentary based around Emma's actress character looking for a cause to support.  She wants to use the campaigning it to bolster her flagging career.  Tracie plays a friend of Emma.
Originally Bandwagon started back in 2004 as a low-budget movie and involved Emma helping a "developmentally disabled girl get into show business."  Last year it was released for free on the web as a set of short episodes.  This year a 2nd season has been produced and, again, made available freely via YouTube.  Emma recently announced that this new season 2 has been renamed to season 1 and season 1, as was, would be called Bandwagon: The Movie.  Still with me?
Each episode is around 10 minutes long so you can get one watched if you have a small time gap to fill and fancy a laugh.  And with Bandwagon season 2 season 1 reaching its end with a two-part finale starting next Wednesday you haven't got long if you want to catch up.
Check out the show via the official website.  Purchase something in the online store and get a treat.  Lots of things are available, from a Twitter 'shoutout' to a job as an extra.