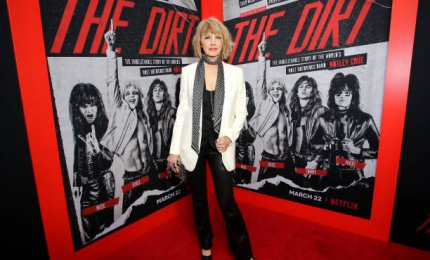 Well, this is a rare treat!  A rare treat indeed.
We haven't seen Kathryn in a public appearance like this since 2017, and we haven't Kathryn like this… ever?  Welcome to Kathryn 2019!
Last night (18th March 2019) Kathryn attended the première of a Netflix movie called The Dirt.  It is a biopic about the rock band Mötley Crüe.  You know: Tommy Lee, Nikki Sixx, Vince Neil etc. It looks like the film 'drops' (that's what the kids are saying, right?) on Friday (22nd).
As far as I can tell Kathryn has no direct connection to the movie. She's not in it or producing it.  And, I've not yet worked out if she has links via a friend.  Either way it is nice to see her out and about.
Presumably the hair is some kind of tribute.  If not… a comb and a mirror for Ms Morris 😛
I'm managed to quickly put together 14 images of Kathryn on the red carpet.  They are all quite small but hopefully I can add to and upgrade the collection later.  Find all them all in the KM UK Gallery.