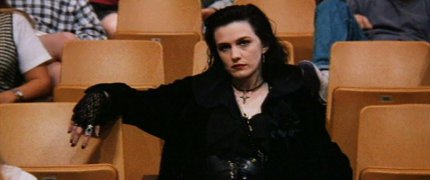 This is another post that falls into the occasionally used category of "been in the Gallery for ages but never been written about here."
The original title of this 1994, based on true events, TV movie was A Friend Die For but at some point it was changed to Death Of A Cheerleader, primarily for foreign markets.  In the Gallery it is listed under the latter.
In brief, the story is about new girl to school, Angela, who is desperate to fit in with the clique of "popular" girls.  You know the sort: bitches.  Angela is not one of the cool kids.  Monica (Kathryn) isn't either.  Chief bitch Stacey (Tori Spelling of 90210 fame) has it in for Monica.  This comes to a head when Angela steps in to defend Monica and ends up stabbing Stacey.
Kathryn is definitely playing against type here as a raven haired, black leather-wearing goth.  Making Kathryn so pale didn't exactly stretch the make-up budget though

  Frankly, she's just a couple of long, sharp teeth short of being "sparkly" (what ever that means).  Although Kathryn's role is quite small it is crucial to the story, acting very much the yang to Stacey's yin, with Angela stuck in the middle not knowing which way to turn.
Kathryn is in 7 scenes.  Is angry in 5 of them.  The subject of bullying/abuse in 5.  And actively chased in one.
33 screencaps are can be found in the Gallery.