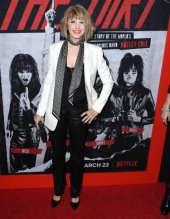 A noteworthy update to yesterday's public appearance post.
Based on the information available at the time I could see no connection between Kathryn and this new Mötley Crüe biopic, The Dirt, due on Netflix this week.
Turns out there was more to this than just a red carpet appearance.  Happy to issue a correction on this issue.
According to a new revision on the IMDb page for the movie Kathryn is actually in it.  Her character is called Deana.  The first connection I've managed to make between the band and Deana is Nikki Sixx's mother.  Her name Deana Richards.
Expect to see more from us on this soon.