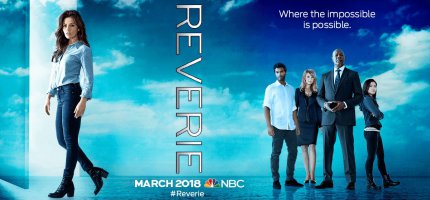 Reports from the New York Comic Con event of the previous weekend are starting to spring up.
As we know the cast of the new ABC drama series Reverie attended the 'con', took part in a discussion panel after a screening of the pilot, and also conducted individual interviews with members of the press.
The Bleeding Cool website has an article by Adi Tantimedh who, after a explanation of Reverie's premise describes it thus:
This is one of the more ambitious shows this season. It's not another cop show or another soldier show. It's about tragedy, loss, and empathy. It's about the desire to escape from the trauma and sadness of life into a dream world, and the need to connect with humanity and emotion.
Adi goes on to give quotes from each main actor (Sarah Shahi, Sendhil Ramamurthy, Jessica Lu, Dennis Haysbert), creator Mickey Fisher, and producer Tom Szentgyorgi.  Of course Kathryn is there too.  Here is what she said about Reverie and her character Monica Shaw from the Department Of Defense:
I thought this show is a beautiful execution of a psychological thriller within this emotional landscape in the world of virtual reality. It's not like a typical Sci Fi show where the emotions come later. It's a tangible take on the power of virtual reality. And nobody does it better than Amblin. My character lives in a grey area of Light and Dark in the way the government uses things for their own purposes.
You can read Adi Tantimedh's full piece HERE and a follow-up article on how the show is about finding a human connection HERE.