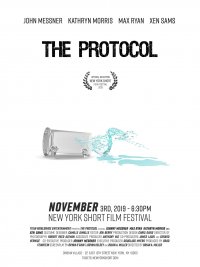 Remember The Protocol?
KM UK last brought you news on the project two and a half years ago when a new IMDb page and a small video clip surfaced.  OK, there was the frankly hilarious April Fools 2017 post about the film becoming part of the Marvel Universe.  That was good.
In fact it goes back to the summer of 2013 when it was filmed.  Initially it seemed to be a short film, and then a pilot for a TV series (which is why it ended up in the TV section of KM UK Gallery).
Today we received news, via the actor Xen Sams, that the movie will be screened at the New York Short Film Festival in just two weeks time.
The Protocol is one of the official selection for the NYSFF and is scheduled to be shown on November 3rd (a Sunday) in a slot starting at 6:30pm.  As with most short film festivals, groups of films are shown together in blocks, often themed in some way.  In this case, as things stand, The Protocol is only being shown alongside one other project, Switch.  This appears to be a web-based TV series but probably exists as a short as well.  Maybe there are showing a complete episode so it fills much of the 75-minute block.

The Brian A Miller directed short starring Max Ryan, Xen Sams, and Kathryn, always looked a little sci-fi but it has not been clear what the film is about.  In her announcement, Xen Sams described it as "filmed and created in effort to raise awareness for our nation's ongoing mental health disorder."  The tipped over glass of water in the poster (above) raises a few questions too.
If you are in New York in early November perhaps you could get to Cinema Village independent cinema in Greenwich Village to see The Protocol.  Tickets are available via the festival's website HERE.  It is Short Block 7, 6:30pm, 3rd November.  Let us know what it was like.