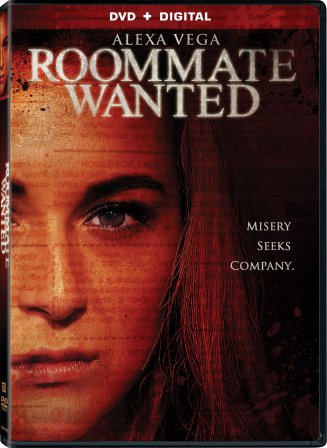 The movie up to now known as 2Br/1Ba (2 bedrooms, 1 bathroom; the description of an apartment) has undergone a name change to Roommate Wanted prior to its newly announced release date of the 19th of May.
The launch will be on DVD and video on demand service and will receive the US 'R' rating for content.
Here is the official press release from Lionsgate Home Entertainment:
Keep your friends close and your roommates closer when Roommate Wanted arrives on DVD (plus Digital), Digital HD and On Demand May 19th from Lionsgate Home Entertainment. Starring Alexa Vega (Spy Kids franchise), Spencer Grammer (TV's "Greek"), Kathryn Morris (TV's "Cold Case") and Richard Riehle (Transformers: Age of Extinction), it's an all-out girl-war that ends with someone moving out for good. Roommate Wanted will be available on DVD for the suggested retail price of $19.98.

Janie is an ambitious student who dreams of a better life. Dee is a gorgeous socialite who dreams of a rich husband. They're already not the best of friends…or the best of roommates. But when Janie gets the opportunity of a lifetime, Dee becomes the roommate from hell as she desperately tries to destroy Janie's life.
We'll keep you posted on any news regarding the rest of the world.
Above is a copy of the DVD box art.  As you can see they are tapping into Alexa Vega's high profile due to various recent movie and TV roles.  A large version of the image and a logo graphic have been added to the Gallery.
Nearer the time KM UK will be bring you some exclusive content, just for you fans of Kathryn.