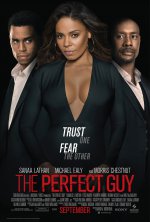 The US market box office figures for the weekend just gone have been coming today.
The Perfect Guy was number 1 with takings just above the other big new release, M. Night Shyamalan's The Visit.
Said to have cost around $12m to produce, The Perfect Guy took $26.7m in it's opening weekend.
Generally speaking a film needs to make around three times their budget to be in profit.  The cinemas, distributors, promoters, etc. all get their cut.  So, the movie is well on it's way to being a success for Sony's Screen Gem division that's produced it.  One of its biggest in fact, already in the company's top 10 openings apparently.  Another few weekends and then the releases around the globe should push it considerably further.  Then there's the DVD release to come.
Congratulations to all involved on the success.
The critics have been less kind to The Perfect Guy but they seem to have little influence on the public in general.  Further evidence of that is The Visit was also given a mixed reception.
Update (16th Sept):  A small detail I missed when I posted the above item was the fact that The Perfect Guy was not preview screened or screened for critics prior to the Friday release.  Most films are 'preview screened' on days before the official launch date, usually a Friday.  Often this is just the Thursday but increasingly it can start earlier in the week or even back to the previous weekend.  For reasons best known to the film industry all these extra days are included in the normal three-day opening weekend.  This is done to boost the takings to increase the chances of it being number 1.  It's all marketing.  So, it is to The Perfect Guy's credit that it achieved the top spot despite only have ticket sales from three days.  The lack of screenings for critics before release does tend to suggest the feeling was that the film would not be well received, and the wish to keep the opinions away from the public before they make their decision on what to see at the cinema that weekend.