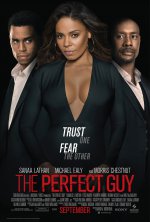 It was released in the US back in September.
The past few weeks have seen it première in various countries across Europe.
Finally, and we do appear to be amongst the last, the good burghers of the United Kingdom and Ireland get a look in.
Thriller The Perfect Guy is set to be released in cinemas across the two islands this coming Friday (20th Nov).
The most recent global box office figures since the initial launch in America show the film has taken nearly $60m so far.  Half of that was in the first week.  On a budget said to be around $12m that's a very respectable result.  Fives times the production cost should certainly put the project in to a nice profit.  Congrats to all involved.
To mark the release of the Sanaa Lathan (Boss), Michael Ealy (The Good Wife, on the left in the poster above), Morris Chestnut (Rosewood, right), and Kathryn Morris-starring film the Guardian newspaper here in Britain has today posted a little quiz about similar thrillers.  As most of these type of 'ex-partner goes psycho' films is the other way around gender-wise they are testing to see how quickly you can spot a 'bunny boiler'.  Take the quiz here.  How many can you get?