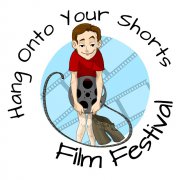 A quick reminder about an upcoming Kathryn-related event.
As reported a month ago, Fabien Martorell's short film The Coin is getting an airing at the Hang Onto Your Shorts Film Festival this coming Sunday (24th April 2016).
The event is held in the Asbury Park area of New Jersey, aka the Jersey Shore.
The Coin finds itself in a group of films which starts at 4:40pm at the Showroom Cinema on Cookman Avenue, NJ.  Presumably as there is no obvious theme and it is the final set of the day the group has been titled 'Last Set'.
Kathryn stars in the piece as the mother of a young boy who encounters a homeless man (Christopher Lloyd of Back To The Future fame).  Life is not easy for the boy, thanks largely to his stressed-out mother, and the stranger gives him words of encouragement.
See my previous post here for more and the official website here for all the details.