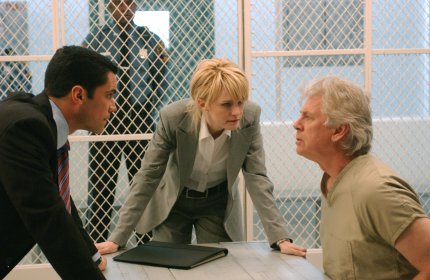 Anyone detecting a theme with recent promo photo updates?  It's not planned this way, honest!
I know this is a cop show, and it is not unknown for them to visit people in prison, but to make such a significant part of two episodes running smacks of carelessness.
'Creatures Of The Night', first broadcast 15 years ago today, is one of Cold Case's episodes that stands out for two reasons.  The backdrop is a performance of The Rocky Horror Picture Show in the late 1970s, this means all the music is from the movie.  Secondly, the guest star is none other than Barry Bostwick, star of the very same film.  Of course, big star in key role usually means they did it!  That way they get to do the big dramatic scenes.
This time out we can bring you six more prison-themed new promotional photos that have been added to the KM UK Gallery.
No prison bars in next week's very nice set of image, I promise.