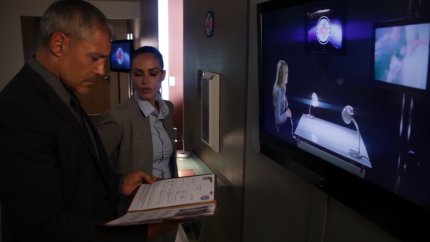 Kathryn's The Protocol co-star Xen Sams has been doing some promotional work following the screening of the piece at the recent New York Short Film Festival.
It has consisted mostly of interviews on various small YouTube channels and Facebook groups.  Xen's main focus has been to talk about mental health issues the film was created to highlight.  The specific details of The Protocol; the plot, the cast, etc.; were largely glossed over during the chats.  However, one of them did start with a clip from the film.  Xen also started to say the project was being developed as a "network…" but was cut off before she could finish.  There has been talk from the beginning of looking at The Protocol as a possible TV series.  That must still be being tried.

The clip also emerged on Xen's on YouTube channel and has been described separately as a trailer and a teaser.  To me a teaser is very brief and just gives a hint of the project in question.  A trailer should be a longer video containing more information about the story, with a few of the highlights shown.  Ideally it should be spoiler free but all to often these days major film trailers show too much.  This is more of a clip.  As it happens it dovetails into the clip KM UK previously found over 2 years ago.  It fits into the middle of it.
Kathryn only features in the background on a screen, sat in the interrogation room, as we've seen previously.
Watch the new clip of The Protocol courtesy of Xen Sams on HERE on YouTube. A small copy has been added to the KM UK Gallery as well.
The video description from YouTube gives a lot more information about the film:
In a dystopian future, after decades of war, the leadership of a new government, called The Federation, was formed to provide a safe haven for those that wanted to rid themselves of the raw human emotions that devastated an entire generation. On the verge of collapse, the government directed the nation's scientists to develop a drug therapy that inhibits all emotional imbalance. No longer would race, religion, crime, or violence impact these citizens. In the few remaining city-states, the drug therapy is mandated for all citizens… because of the Protocol, a modern-day Utopia was born. But just outside of the gates in the Exclusion Zone… a new enemy was born. One that resisted the drugs. Their sole purpose of destroying everything that the Federation had built. Welcome to Paradise.