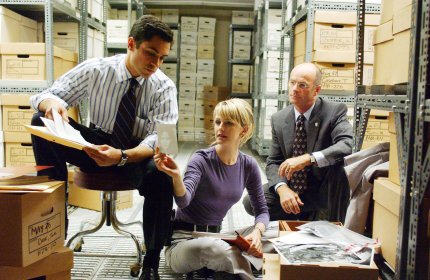 We continue with our other Cold Case catch-up.  Starting the look back 15 years to Cold Case season 2 rather later than planned means we are only up to the 17th of October 2004.  That is when episode 3, titled Daniela, first aired.
A woman approaches Lilly and Scotty as they get coffee from a cart outside the PD offices.  She claims her (soon to be ex) husband murdered a prostitute and has the film to prove it.  The squad find an unsolved 'Jane Doe' case from 1979.  When they track down Daniela they get a surprise.  One that possibly got 'her' killed.
In the KM UK Gallery are now 8 new promos/still from Daniela.