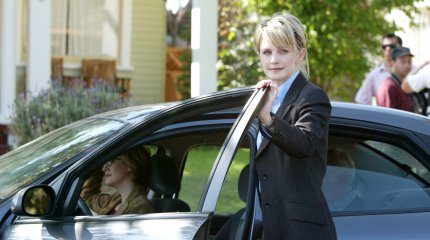 You might think look back 15 years is a stretch.  For 'Factory Girls' (season 2, episode 2 of Cold Case) Lilly and the squad had to re-investigate a 61 year old death!  Not the death of a 61 year old person.  A death that happened 61 years previously!
To help with the war effort a lot of women were saying #MeToo over 60 years ago.  With so many men away fighting the women had to work in the factories.  It was the start of a revolution really.  At some point soon true equality will follow.
A year before hitting the really big time in the American version of The Office, Jenna Fischer guest starred in this episode of Cold Case.
9 new, good-sized promotional still photos from 'Factory Girls' have now been added to the KM UK Gallery.