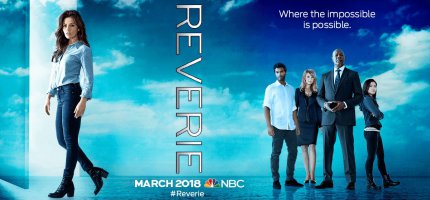 The NBC network have managed to remain silent on the issue, but we are almost certainly just a one month away from Reverie's first episode being broadcast.
It strikes me as odd that so little is being said about the upcoming show, which is due so soon.  No sign of promotional material, such as a trailer, or official confirmation of the première date.  We know it is the 6th March though.
It is only in the past couple of weeks that the Spoiler TV website has acknowledged the final few episode titles.  Readers of this site knew them back in November!
There is the small matter of the 2018 Winter Olympics, held in South Korea, to get past first.  NBC are the US host broadcaster for the event so will be devoting a lot of air time for the 17 day duration.  Hopefully once that is cleared the remaining week-or-so will give them time for it.  Who knows, the massive audience that parts of the Olympics coverage will get could be used to promote the new mid-season shows.
Not long now.