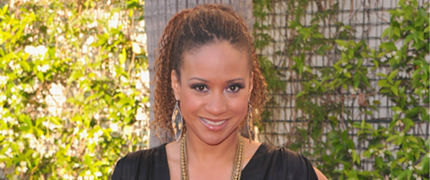 Let us take a walk down 'It's not her, it's them' Road in the April 2017 Cold Case Cast Catch-up.  What have the other major cast members been up to since our stroll this way in March?
There is always the danger that the CCCC-up could just turn into the Tracie Thoms Show.  We make no apologies for that.  She's a very hard working and talented lady.  This month is no exception, it is exceptional though.
Where to start?  How about Wednesday the 26th of April?  No objections, so I'll begin.  That day saw Tracie Thoms (Kat Miller in CC) appear as a guest star in the long-running CBS (them again!) drama series Criminal Minds.  Tracie recently let it be known that she had been working in Vancouver (much talked about around these parts of late).  Presumably this is what it was about as Criminal Minds is mostly filmed there these days.  Tracie played the wife of new comer to the show Stephen Walker (Damon Gupton), giving more background to his character.  The show is nearing the end of its 12th season and has already been given a renewal for number thirteen.  Now Ms Thoms is in the CM universe as Mrs Walker you never know when she might be called upon to reprise the role.
Sticking with the Tracie and TV theme: she has also booked a recurring role on Lifetime network's UnREAL.  Tracie is going with the theme-sticking too as her character, Fiona, is an executive within the entertainment industry (as she was on Love) and close friend of main character Quinn King (Constance Zimmer).  Fiona is said to be "fun-loving, gorgeous gay woman with swagger".  Two out of three for Tracie there.  UnREAL was co-created by Marti Noxon (probably best know for her work on Buffy The Vampire Slayer, now 20 years old!) and is set behind the scenes of a TV dating show.
From dating to The Drowing, but staying with Tracie and adding the month of May to the theme.  I've previously mentioned the movie based on a Pat Barker novel about a psychiatrist who saves a young man trying to kill himself.  Julia Stiles (Dexter) and Josh Charles (The Good Wife) star.  A trailer has been published for the oft-delayed film and you can watch it on YouTube here.  In other news a US release date has been given as the 10th of May.
Speaking of suicide but staying with Tracie (I don't just throw this together, no matter how it looks

).  No more talk of Canada, Tracie was back working very close to home last week.  Very, very close to home.  In her own home in fact.  I'm not sure of the nature of the project (possibly a short film) but Tracie filmed something apparently called Career Suicide.  She worked with a number of her friends, including a certain…
Thom Barry (Will Jeffries in CC), yes our old friend was back on camera with his squad-mate Tracie.  We get to see so little of Thom, he seems to take a very laid back approach in total contrast to Tracie, so it is good to see him working on a new project again.
Last month's CCCC-up included news of Jeremy Ratchford (Nick Vera in CC) guest starring in a NCIS: New Orleans episode at the beginning of April.  I ended that piece not sure whether his character, Richard Marino, was a cop or a mobster.  It wasn't obvious.  The opening scene of the show didn't exactly clear that up.  Turned out to be a little from column A and a little from column B.  Marino was an old-school copper working under cover on a drug deal that goes pear-shaped.  Speaking of crimes, the movie Small Time Crime, in which Jeremy has a small role, had a premiere in the SXSW event back in March.  Since then the film which co-stars John Hawkes (The Sessions) and Octavia Spencer (Hidden Figures) has been purchased for North American distribution, which increases the chances of a general release in the near future.