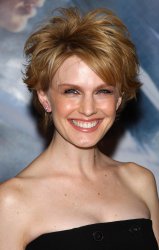 Normally with these little visits to past public appearances I generally try and make them seasonally relevant.  The recent awards event photos posted within a few days of the most recent ceremonies.  That kind of thing.
This update, however, has been triggered by the unearthing of a video in which Kathryn features.  But that doesn't mean we can't also make it topical.
I'll explain.
Moves are afoot to make a TV series based on the Tom Cruise-starring, Steven Spielberg-directed movie Minority Report.  Kathryn, of course, had a small but crucial role as the estranged ex-wife of Tom Cruise's crime preventer Chief John Anderton.
In the past few weeks there has been news about the casting of the Fox-ordered pilot due to be set 10 years after the film.  Start Sands (Generation Kill), Meagan Good (Cold Case episode 'Soul') will play the leads as both twin male Pre-cogs (they can see the future) and a Precrime officer respectively.  Wilmer Valderrama (That '70s Show) has recently been added to the cast as another police officer.
Links to the film are kept with Laura Regan (Mad Men) taking the Pre-cogs Agatha role as portrayed by Samantha Morton originally, and Daniel London actually reprising his part as Wally the caretaker.
Wouldn't it be great if Kathryn's Lara Clarke could also appear at some point as a way of linking back to John's time in the Precrime unit and the events of the hit movie?  Make it happen Hollywood!
Having not been included in the KM UK Gallery previously I have now added an album of various photos of Kathryn doing the red carpet walk in New York for the première of Minority Report.  And, the video that triggered this post has also been added alongside the snapshots.  Kathryn appears very briefly in middle of the clip answering a question about fate.