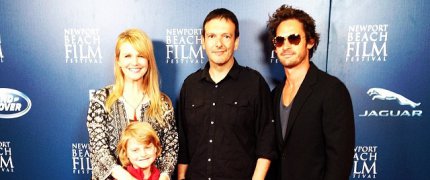 How does this go…?
Oh yes…
Happy Xmas!
2014 has been a relatively quiet year on the Kathryn-front but we've still had plenty to talk about.  Here is the KM UK round-up of 2014.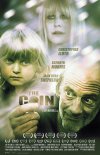 The winner of the most talked about project award goes to The Coin, the short film by Fabien Martorell (writer/director/producer) starring Kathryn, Christopher Lloyd (Taxi) and young Jack Ryan Shepherd.  The Coin featured in a dozen film festivals across the year, a process it started after premièring in mid-2013.  It must say something about the 9 minute long film that it continued to be accepted by festivals all over the world, including France and England.  What's more Fabien's mini-drama won three best short film awards and one for best director along the way.  It is like a good 'bad penny' that just keeps turning up.  Very much the little movie that could.  We've not heard the last of it yet, despite Fabien's focus having shifted to promoting his new short film Unbelief.  Evidence of that is a newly updated 3rd poster and 3rd trailer (both now in the Gallery).  There will no doubt be more to say in 2015 as well.
Thanks go to Fabien for his assistance during the year on all things The Coin related.
We also have to thank The Coin for giving us Kathryn's only public appearance of 2014 (see photo above).  Kathryn attended the Newport Film Festival in April along with Fabien, Jack and Will Kemp.  Will has a small role in The Coin and was also a co-producer.  Of course we know Will from when he worked with Kathryn in the movie Mindhunters, not to be confused with the Cold Case season 2 episode Mind Hunters.
Three other projects starring Kathryn that we first talked about in 2013 or before bubbled up a few times during '14.
Drama 2 Br/1 Ba looked like it might make an appearance before the end of this year after a distribution deal was announced with Grindstone Entertainment and Lionsgate.  A little bird tells me that things are progressing towards a spring release for 2 Br/1 Ba.  More on that when we can bring it to you.  It's on the list of projects to throw things at in 2015

In July 2013 Kathryn filmed something called The Protocol.  Her partner and father of her twin boys, Johnny Messner, apparently also starred in it and his own production company was said to be involved.  Exactly what The Protocol was, beyond a near-future drama, was not clear at the time.  It might be have been a short film or a TV show pilot.  An appearance in September of The Protocol on IMDb as a TV series of unknown episodes nailed it down somewhat.  This was followed by lead actress Xen Sia doing an interview at the September New York Comic Con in which she talked about it.  Despite describing The Protocol as being "syndicated all over the world" we've not seen any further mention.  Another on the 'to do list' for 2015.  It will comply or be banished

Horror movie director Dante Tomaselli's remake of his own uncle's scary classic Alice Sweet Alice had gone quiet quiet quiet but came back with a BANG and a surprise appearance on IMDb back in February.  Since then it's been quiet quiet quiet again.  Its lying in wait for the production to get the go ahead and Dante to make time for it.  Kathryn's linked to this project as an actress playing the mother of the lead character and at the producer level.  The torch is ready to check the dark corners for this in 2015

And now to upcoming films we first learnt about this year.
In August there was news that Kathryn had joined the cast of movie drama The Perfect Guy, starring Michael Ealy (Almost Human) and Sanaa Lathan (Nip/Tuck).  The filming was just about to start.  We know that Kathryn is playing Karen, a close friend of the main character Leah (Sanaa).  Leah ends a relationship and then meets 'the perfect guy'.  As this is a movie it can't be that simple, and it isn't.  He goes all psycho stalker on her.  Since the news broke we've had various updates on release dates across Europe from October 2015.  No news on the home territory of the US of A as yet though.  The likelihood is that The Perfect Guy will be out there before everywhere else so I'm thinking August/September.  Now we've heard about this film we will not be leaving it alone

People sometimes say that the process of making a particular movie, often a big epic, could form the basis of a movie in of itself.  Bone Tomahawk could almost be one of those.  It is not a huge, multi-million dollar, blockbuster epic but it has had a protracted development.  Prior to it coming onto our radar in September when Kathryn was added to the cast, the film had already had a full cast announced two years earlier.  Delays and scheduling conflicts caused re-castings.  Further delays meant that some of the original cast were now free to re-take their roles.  One constant has been Kurt Russell (Sky High), he's been connected to the film from the beginning.  Kurt will play a Wild West Sheriff setting out with a rag-tag crew to rescue hostages taken by cannibalistic cave dwellers.  It's a horror western.  Kathryn will have another small role as the wife of Kurt's Sheriff Hunt.  Production wrapped back in October.  With Bone Tomahawk and Quentin Tarantino's Hateful Eight (also starring Kurt Russell) due out next year, 2015 could be big year for Westerns.  The KM UK horses are saddled-up and ready to ride into the sunset for the 2015 release of Bone Tomahawk

On more personal note Kathryn's twin boys, Jameson and Rocco, had their first birthday in August.  No doubt this Xmas will be much more fun for them than the last one as they'll be far more aware of what going on.  It's all about the kids really.
I think that wraps up our round-up of KM UK in 2014.  Feel free to leave comments on your highlights of 2014.
Thank you to everyone that's visited during 2014, especially those that have contributed in some way.  It is all very much appreciated.
Let's be careful out there, be good to yourself and each other, don't have nightmares, don't do anything I wouldn't do, boldly go where no man has gone before.