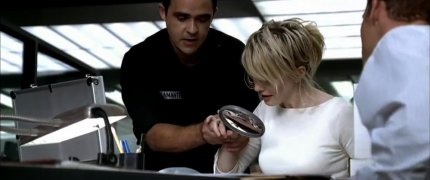 Want to see Lilly wielding her gun?  Catch a glimpse Kathryn's tattoo?  Are you looking for a particular photo of Kathryn but are not sure where to find it?  Or do you want an image with particular content for a banner, signature or avatar?  Yes?  Then gallery searching is for you.
The KM UK Gallery has a useful search facility for finding images quickly and easily.  Type the a Cold Case episode name, film title or event name into the search text box, click the search button, to get a list of appropriate albums and images.  You will find the search box is situated at the top of the Gallery's front page, it is different from the one at the top of this page.
However, to make the Gallery an even more useful resource, and not just a collection of pretty pictures of a very pretty lady, I have started the process tagging the images with keywords.
To explain this fully I have put together a page with more details on the tagging and ways to use search effectively.  See the page on Gallery Searching for more details.
Having found the images you want don't forget to rate and comment on them.  It would be good to hear about your favourites.
If you use any of my screencaps in your work I would love to hear about it.  I'm not looking for credit, just curious to see what you come up with.