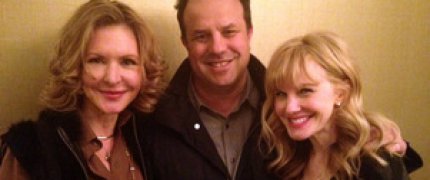 We have an additional photo of Kathryn and co. at the table read for the pilot of Surgeon General.  As you can tell it was taken at the same time as the previous couple of photos.
In this small photo we see Atlanta-based acting teacher and actress Kristen Shaw and director Rod Lurie.  Surgeon General is something of a reunion for them as all three have worked together before on films Deterrence, The Contender, The Last Castle and Resurrecting The Champ.  Kristen has worked with Rod even more than Kathryn has, having starred in just about everything he's ever made.
The photo is now in the Gallery.
Thanks to Kristen Shaw for allowing us to share the photo with you.  The Facebook page for the Kristen Shaw Acting Studio is here.