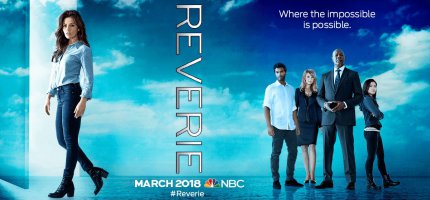 Now the Winter Olympics (well done to all that competed) is out of the way I was looking forward to an all out Reverie promotional assault from the NBC network.  Just a week to go until a brand new series hits the US airwaves.
It is still early in that 7-day countdown, but the lack of anything during the time that so many eyes were on the station's output for two weeks of snow- and ice-based sports was a little concerning.  No trailer and no press releases giving the official details of the new VR drama starring Sarah Shahi (Person Of Interest), Jessica Lu (Awkward.), Sendhil Ramamurthy (Heroes), Dennis Haysbert (24), alongside Kathryn.
Spending a little time today looking into what must surely be an oversight by NBC today has brought some disappointing news to light:  we could be looking at a June (and late June at that) première for Reverie.
The early March release looked so set in stone.  Even officially released Reverie artwork (as seen above) included a reference to it, albeit not including the specific date.  They must have meant it at the time.
As Reverie was a 'mid-season' show, and therefore set to replace something else, presumably one of the new shows that started last September has been more successful and had its run extended.
It is unlikely now that Reverie will start next week, but we will have to hope we won't be waiting until the summer.